Jumpsuit Details: The Rose Gold Cable Car Emblem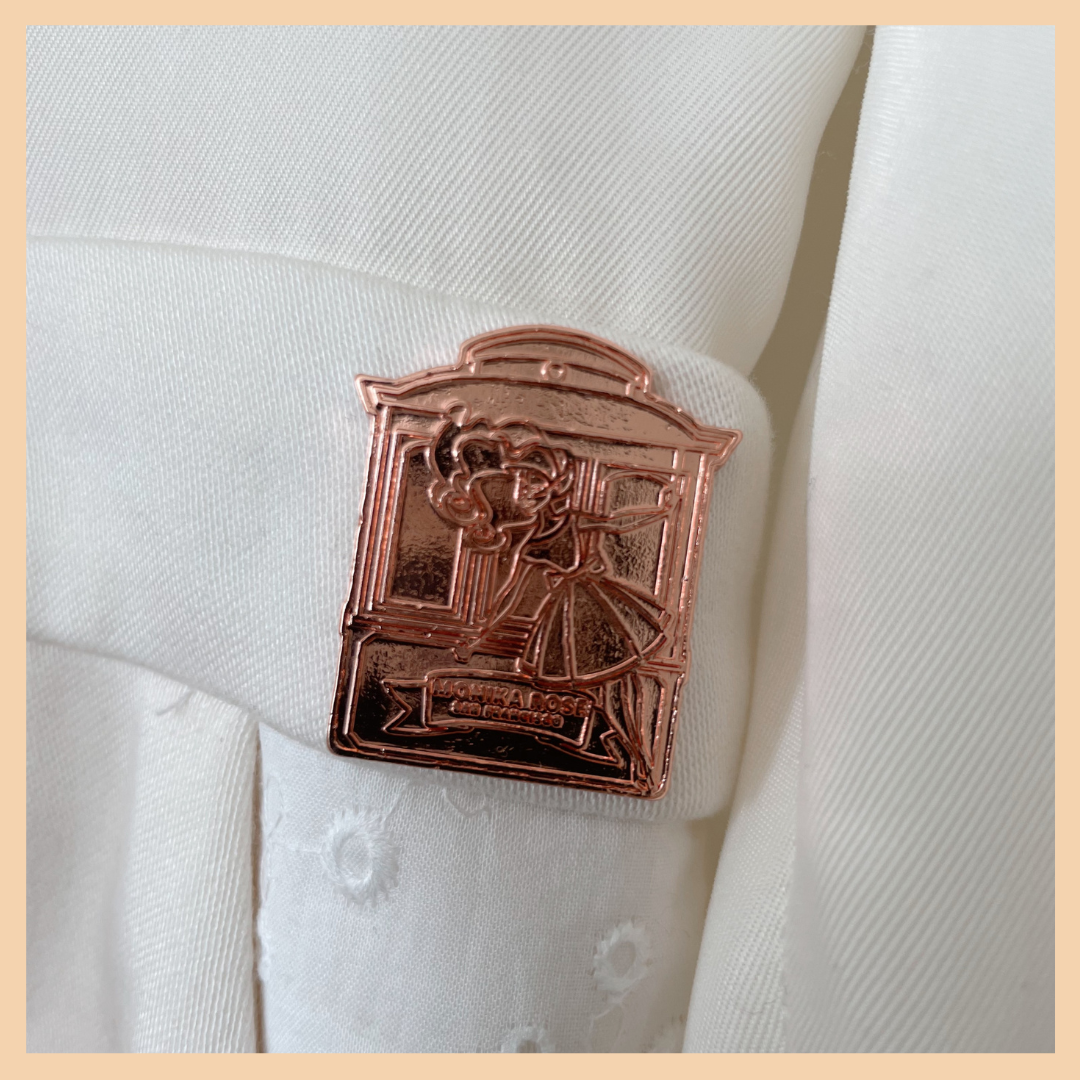 The Rose Gold Cable Car Emblem...dun. dun.
A small yet mighty detail deserves a little Law & Order SVU dramatization. 😉
I mentioned in our last launch update, The Beginning of the Monika Rose SF Jumpsuit, my vision for a cable car emblem attached to our jumpsuits may be a streeetch of my imagination.
Yes, I stretched out the word stretch, that's how unsure I was about it.
With the help from my sourcing team (I can't believe I have a sourcing team...someone with expertise in finding fabrics, buttons, etc.), we got it done!
But as with everything I've discovered throughout this process, there was a fair share of obstacles to get through.
The main obstacle was getting the intricate detail of my logo to fit onto a tiny pin-like piece of metal.
With lots of back and forth adjusting, we had to remove a few design details from our cable car girl's dress and increase the size of the emblem so the logo would be legible enough.
I like to make things difficult, don't I?
The size of the emblem was much larger than what I initially wanted, but I'm so glad the fashion gods forced me to change my original idea.
The emblem stands out just enough while fitting perfectly onto the waistband of the jumpsuit!
Not to mention, we got the most gorgeous rose gold color. 
The small yet mighty details are what make our jumpsuit special. And when you finally get a chance to wear yours, I hope the rose gold cable car emblem makes you feel just as special.
All my best,
Monika Rose
P.S. Funny side story: My sourcing partner accidentally ordered over 1000 rose gold cable car emblems. Since we're launching with only a small batch of jumpsuits, this is WAY over the number we needed. So, you'll likely see these little emblems placed on future pieces in our collection. 
---